Ayurvedic Massage! Maybe I should have done my research first, but then I wouldn't have had the experience or this story to share!
Fort Kochi was my first stop during my 6 week visit to India. Greenwoods Bethlehem Homestay was my home for my first three nights here. A breakfast of toast, jam, harb-boiled egg, idli with Sambar, bananas, tea and coffee, was served every morning on the rooftop, covered with thatch and wrapped with much needed mosquito netting. Here you could also find a board with information for the guests! There is was, Ayurvedic Massage, Rs. 900/hr. In American money that's roughly $14/hr. Hello, sign me up please!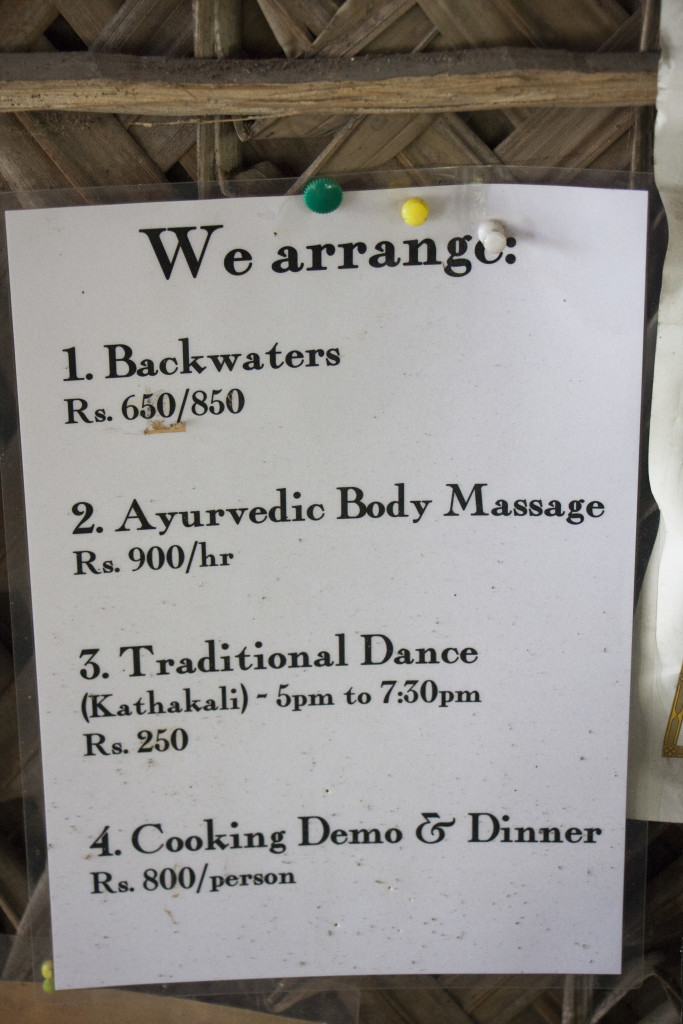 The next day, Dizzy, a small Indian lady lead me through the maze of corridors to the massage studio. We walked through a yard, to the rear, passed two men doing repairs to the foundation, they looked downward as we walked by and I got the feeling they knew what we there for. We entered a brightly painted building, it was blue with lime green trim and doors. On the inside however, stark white, medicinal, only a metal table, chair and small bathroom. Dizzy motioned for me to remove my clothing, she didn't speak any English. She wanted me topless but I was able to keep my bikini bottoms on, thank goodness, pretty sure having my who-ha exposed the whole time would have created another level of discomfort! In the U. S. a sheet is used to cover the body parts that aren't being worked on, but for this experience it's just me on the table, no sheet!
So after the initial shock of total exposure the massage began. This is a WHOLE BODY massage. Boobies included. Yep, she touched my boobies. It was uncomfortable yes, but not so much that I felt violated in any way.  The massage was therapeutic in nature, breasts are a part of the chest and treated as such in one long continuous and swirling stroke. It was very different than anything I'd ever experienced on a massage table before. Unfortuntely, the massage was not realaxing or therapeutic for me. The pressure was barely noticeable and I was a bit too in my head for pure enjoyment.
When the massage had ended I was to stand up, totally naked in front of her, while she did quick strokes down my body, sending the extra oil and energy to the ground. The end.
Needless to say, this was the only Ayurvedic massage I had while in here.  India is such a modest country and this is just one of the many contradictions to be experienced!
Namaste!
{ 0 comments }