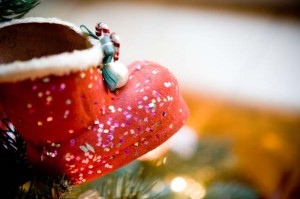 …
Merry Christmas!  This is a cherished ornament that has been passed down in my family!
…
This is our Kahlua Cake.  It's a Trifle and is sooo easy and delicious!!
Make two boxes chocolate pudding, one box chocolate cake.  Bake and cool cake, cut into squares, this is the first layer.  Sprinkle some Kahlua over cake pieces.  Mix Kahlua, to your liking, into pudding and spoon over cake.  Repeat layers, top with large container Cool Whip and sprinkles….  HELLO~!!  YUM & HAPPINESS!!:-).