Eggs Benedict with Meyer Lemon dressing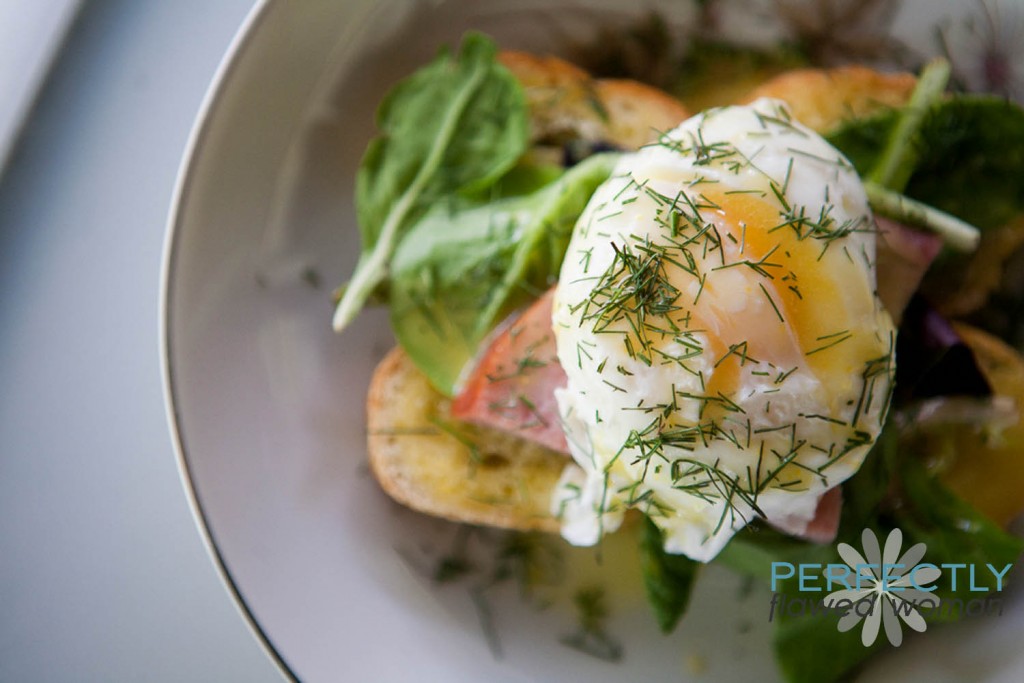 One of my goals for 2012 is to cook more at home, with fresh ingredients, using what's on hand with less waste. I love to cook, I love cookbooks, so this year I'm making it more of a priority. This past weekend our close family friend, Britt, spent the night on New Year's Day. We had made Grilled Salmon and a Fennel salad with Meyer Lemon Dressing from my new X-mas gift cookbook, Big Sur Bakery Cookbook, (I highly recommend by the way). I was so excited to make this at home. PFMan and I spent a few days in Big Sur in July and fell in love with the Bakery. Though all the food we had in our 9-day trip to Northern California, my absolute favorite meal was the simple salad of fennel, greens, herbs and Meyer lemon dressing at the Bakery! So I've been itching to get the cookbook and PFMan didn't let me down for the holiday!
Anyway, we had plenty of dressing leftover, as well as a French Baguette, some greens and a hunk of ham in the freezer so I whipped up a beautiful new recipe for Eggs Benedict on Monday morning.
Believe it or not, I'd never poached an egg before. So I got on-line, of course, and had that figured out in under five minutes.  I have to say I was very pleased with my first try at poaching.  Anyway, the Benedict went like this. Cut baguette into slices, lay on cookie sheet, brush with olive oil, toast in oven.  We plated four slices per plate as the base of our Benedict. Then we placed the ham, which had been previously cut into thick slices and heated in a skillet, on top of baguette slices and then a dollop of salad greens. Next came the poached egg, a drizzle of Meyer lemon dressing and some chopped fennel tops to garnish.  It was a crowd pleaser.
On a cookbook note, I'm also really enjoying Jamie Oliver's At Home Cookbook.  It's about his garden and the recipes inspired from the beautiful bounty that grows there.  Very inspiring to eat healthy, fresh and sustainably.
Salute!