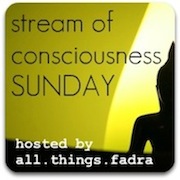 The weeks move too quickly. My mom always talked about time moving so fast, all I could think was when will this semester be over already! Now I understand, and it get's worse every year. These last two weeks have been crazy busy and stressful. Jam packed with homeschooling activities and a beloved kitty that is very ill and under constant care by PFMan and I. To top it off, we've been getting the house ready for our House Warming party this coming Saturday. We have just over 100 people who have RSVP'd and the stressing has begun, lol. Another thing my mom always said, still does is "This too shall pass", and it will. I just wish it didn't pass so quickly.
I'm always working on trying to stay as present as possible, this is so difficult for me, strong ego always in the way. I'll keep trucking along. I'd love to know what other do to stay present, slow down time, any suggestions?
Peace!
Times Up!
This has been my Sunday 5 minute Stream of Consciousness.
Want to try it? Here are the rules…
* Set a timer and write for 5 minutes only.
* Write an intro to the post if you want but don't edit the post. No proofreading or spellchecking. This is writing in the raw.
* Publish it somewhere. Anywhere. The back door to your blog if you want. But make it accessible.
* Add the Stream of Consciousness Sunday badge to your post.
* Link up your post at all.things.fadra.
* Visit your fellow bloggers and show some love.