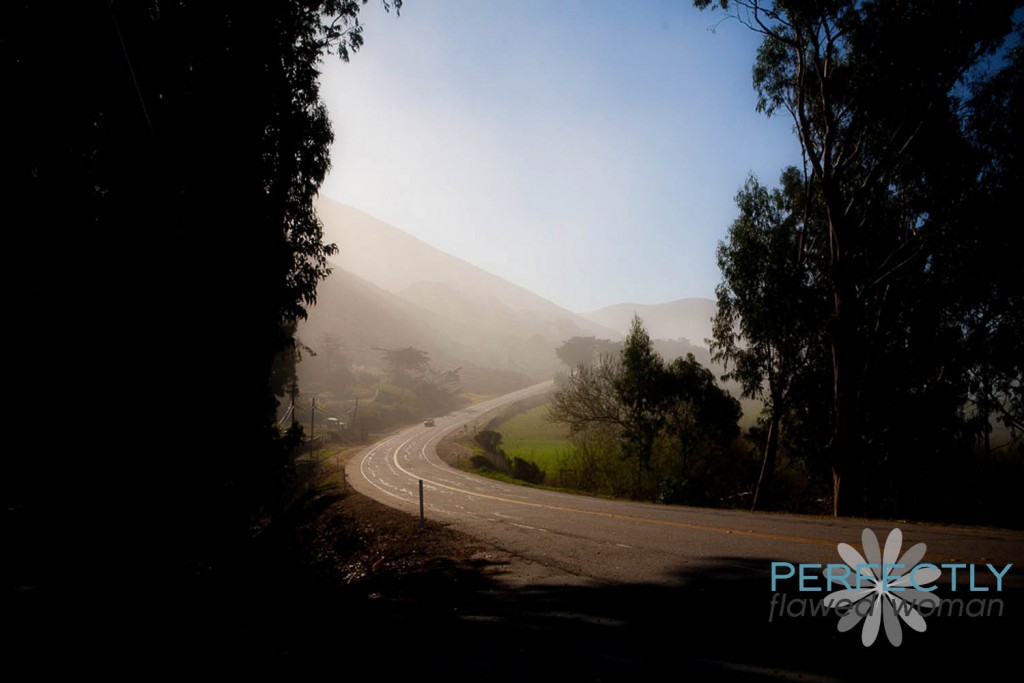 So, I'm 40! I'm not too surprised that I'm embracing it with love, I have been working towards this acceptance after all. I wanted to ring in this next decade in a BIG way, so off to Northern Cali I went. My first three days were spent alone in the Redwoods between Carmel and Big Sur California, one of my favorite places. Landing in San Francisco around 12:30 my first stop was Baja Fresh for lunch. I can't help it, ever since PFMan and I lived in Vegas, years ago, I have loved BF and don't miss a chance to eat the veggie burrito. Then down the coast I go. HWY 17 is spectacular, a curvy, tree-lined drive, just breathtaking. I arrive in Carmel to do some shopping for my stay. I'm determined to go veggie while I'm here so I stock my cart with organic produce, strawberries, asparagus, & pistachios. I've brought my herbal teas from home as well, oh and chocolate with sea salt:-). I turn down Palo Colorado Rd. to head to Don Loui's. This image above is the point where Palo Colorado Rd. meets the Pacific Coast Hwy. Turning off down Palo Colorado was magical. See I'm a dreamer in the sense that I love environments that transport me, and when you turn onto this road you are placed immediately into towering redwoods, like a land of fairies. You twist and wind amongst the quiet giants, houses placed into the sides of the mountains like they've been there forever, all blending in with the trees, completely part of the forest.
Here I have my bag of goodies, camera & backpack (which was packed in my luggage and now used to haul only the few items I'd need for this portion of my trip), and up the mountain I go. Not too bad, about five steep switchbacks, with little treasures at every corner. Then the Dragon House appears, unbelievable! I'm through the Dragon house tunnel and onto the Rainbow House where I'm staying. Don, the innkeeper, is an eccentric. He's been on this property since 1983. Then it was him, the land and a tent. The Rainbow house he built first. Yes, him and his son. Previously he was a contractor and landscaper by trade and it shows. Today there are 4 buildings, The Rainbow & Dragon House (rentals), his own home and an octagon above the rest with windows looking out over the mountain and Pacific Ocean, used for yoga and/or meditation. Beautiful, peaceful! He's created many trails all around the property as well.
Though I highly recommend staying here alone, as a couple or small family, this is not for everyone. Forget a warm shower and none at all in the Rainbow House. Luckily I like going rough and dirty, ha. There is no oven and only a propane burner for stove top, and it's QUIET (aside from the very loud frogs and owls at night:-). I like to think of the house like a tree house on crack, seriously! And since I like being transported, it was perfect for me, like a kid again.
So what's a girl to do all alone in the mountains? Hike, hike, eat at her favorite restaurant in Big Sur, play words with friends, ha, take lots of pictures and hike some more. To my chagrin there was no big AHA moment or anything, just time with myself which in itself is a BIG deal for me. In my past being along has been very difficult. A good friend of mine text-ed me while there questioning how I was doing alone. He said he talks to himself a lot when alone, lol. Me too:-). And I did, much of it in my head, some out loud. But I was comfortable with it, the oneness, and that's a BIG deal!
Please enjoy some of the many photos I took while on this part of my trip and look for a post on me joining the girls in Wine Country soon:-)!
Peace!
Previous trip to Big Sur with my honey:-)!