This here is the Perfectly Flawed weekly round-up, so if you missed me on Pinterest & Facebook, this is where I'll be sharing some of that LOVE on Fridays. Enjoy!
__________________________________________________
Earth Day crafts, Chipotle, and More!
This week was the first week of Earth Month. This month for Natural Living Tips I'll be covering how to green your clean. Yep, we'll be making homemade cleaning products. Good for the planet and your loved ones!
The family is getting itchy, we need to travel:-). Though we're taking a family trip to Key West in a few weeks, I can't help but be thinking of the kids and I's road trip this summer. I'm having visions of places like these:
After seeing this image on Pinterest, I now must read A Street Cat Named Bob
. I'm thinking it may provoke tears in a way Dewey
did.
Yesterday the kids and I stocked up on the veggies needed to make our own natural egg dyes. Beets, carrots, red cabbage, yellow onions and spinach. Take a look see here for more.
There is still time to get in on Hybrid Rasta Mama's giveaway. A one-gallon bucket of Gold Label coconut oil and her e-book. You can enter through April 9th!
Until the 14th to purchase one of Chipotle's upcycled/repurposed lunch bags, made out of old billboards. With your purchase you get a coupon for a free burrito on Earth Day, April 22nd.
Do you need some cool Earth Day craft ideas for kids? Here you go!
Leaving you with this picture of Addy getting ready to feed the Tarpons in the Florida Keys. She really did love it, can't you tell:-)?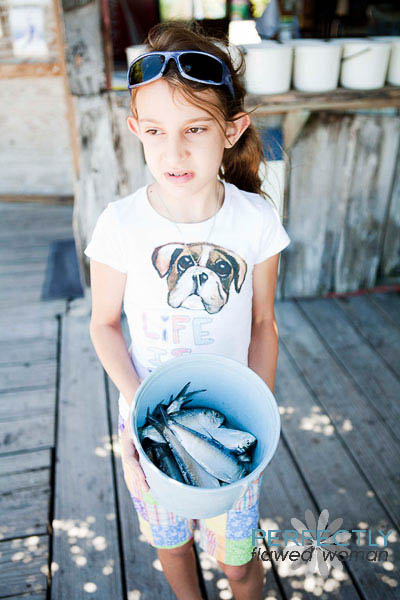 Peace!