You've Reduced the amount of packaging, and otherwise recyclable items that you've brought into your home, Re-purposed & Re-used others, so now what you have left over must be recycled. But what to do with all those items?  The good news: it's getting much easier all over the country, the bad news: it's not necessarily the same from county to county and what the heck to with those old electronics and batteries and leftover paint and… You get the picture.
I found a couple a websites to help you out. At Earth911.com you  input your zip code and what needs to be recycled and up pops options in your area. To find recycling centers in your area go to RecyclingCenters.org to search by state.
Confused about plastic recycling?  Wondering what those numbers in triangles mean?  This can help!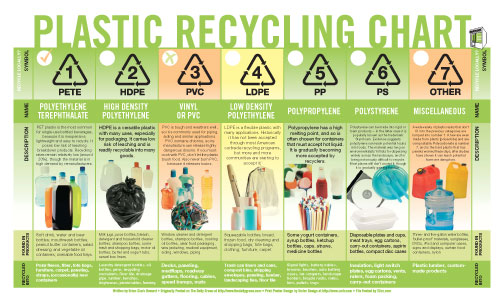 Design by Under • Distributed by 32oz.com
To find out more about the Do's and Dont's of recycling, Waste Management has set up a Recycling for Residents informational page.
Peace!