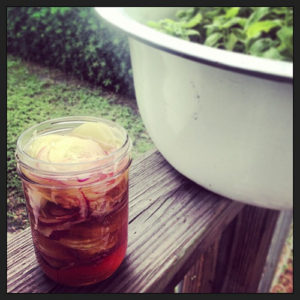 This unassuming jar of what appears to be cucumbers swimming in iced tea is actually thinly sliced cucumbers and red onions in a quick pickling bath.  These are an incredibly yummy, refreshing, slightly sweet pop added to salads or sandwiches.  You probably have the ingredients on-hand and they can be ready to nibble on in about an hour.
All you need is:
One thinly sliced cucumber
One small thinly sliced red onion
3/4 cup apple cider vinegar
1/4 cup water
Tbsp Turbinado sugar (honey would work too)
tsp sea salt
Slice up the veggies as think as you can get them, I like to use a mandoline on the thinnest setting. Place in jar. Put all remaining ingredients into a pot and boil until combined, pour over veggies and chill in fridge. About 1 hour-90 min. I place mine in the freezer if I need it to chill faster.
Drain & Enjoy!