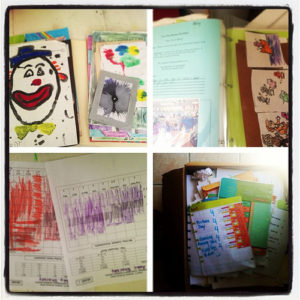 We moved back into the house our son Gavin was born in January of this year. It's a very small home, under 800 sq ft. We came from a very large house on a large piece of property that we tremendously enjoyed renting for just over a year. We've been purging a little at a time ever since. This week I tackled the boxes of old school papers, artwork, agendas, etc. We've been unschooling, a form of homeschooling, for just over two years now and our outlook on "school & education" has changed dramatically. Looking through these boxes, seeing progress reports and assessments from Kindergarten, 1st, 2nd… grade made me shake my head. I got to thinking how these things are only needed in a structured school system setting. Why do my kids need to feel like they are not as good as or better than the other kids of their age?  They don't, and shouldn't.
It reminded me of when they were babies, toddlers, when all the mothers would gather around and fluff themselves up discussing their babies progress. "Mine walked, talked, was potty trained by…" UGH, it used to make me crazy. Who cares and why do new moms need to compare their babies to others?  Most of our babies are fine regardless of walking at nine or 15 months, unless there is a serious condition, they all WILL walk, talk and be potty trained on their own time, when they are ready.
This is why I love unschooling, to allow them to learn and excel on their own time, at their own speed. It allows them to research things that may not be in the curriculum at the LEVEL" they should" be on in a school system or choose to bypass it completely if it's something they have no interest in. It's amazing witnessing the freedom they have, seeing what they naturally gravitate to, their life is so rich.
Just a couple of years ago when we began this new journey, I was unable to throw away these items, these school agendas with the reports and assessments, yesterday it was easy. I know now that these things are not what make up our kids and are not important to their future. I did keep a good bit of the art, at least the artwork that was more individual, not the cut and paste stuff that every child in the class would have done.
Thankful.
Peace!
*The title of this post is the title of a book by Peter Gray, great if you're interested in reading about natural learning.